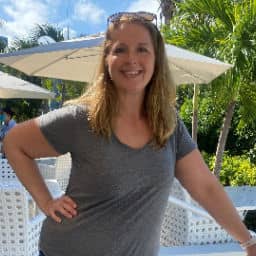 Specialty Destinations
Disney, Universal, Turks & Caicos, Barbados, St. Lucia, Mexico, St. Augustine FL, Hilton Head SC
---
About Me
Hi, I'm Andrea with Favorite Grampy Travels! I live in Aldie, Virginia with my husband, 2 daughters and 2 Labrador Retrievers (Molly & Lucy)! I have been helping families, friends and couples plan amazing memory filled vacations for a little over 3 years now.
My very first trip to Disney was at age 4 or 5 and Magic Kingdom was the only park then. Yes, Magic Kingdom and I are the same age! We did not go often but when we did, those trips created life long memories for me that are so very special to this day.
My love for travel planning started when I began to plan my family's first trip to Disney in January 2018 with none other than my amazing friend, Nikki Hendrix! It had been a very long time since I had been to Walt Disney World, and when I stepped on to Main Street for the first time in about 17 years, I felt I was "home." Since then, I've taken my girls (my husband joins us sometimes!) about 9 times! I love how they know each park and remember special places we like to eat and visit at each one.
Planning a Disney trip can be so much fun although a bit overwhelming, and that's where I come in! I love helping families, couples and friends plan and the excitement I see in their faces and hear in their voices makes what I do even more special!
Certifications
College of Disney Knowledge
Universal Studios Resort Specialist
Mexico Destination Specialist
Costa Rica Destination Specialist
Playa Resorts Specialist
Hilton All-Inclusive Resorts Certified Specialist
AMResorts Specialist
Belize Tourism Board Specialist
Royal Caribbean University, Master of Adventure
Aruba Certified Expert
Atlantis Paradise Island Ambassador
Norwegian Cruise Line 
Sandals and Beaches Resorts Certified Specialist
Hawaii Destination Specialist
Marriott Hotel Sales Specialist
Antigua & Barbuda Specialist
Jamaica Travel Specialist
Jamaica Weddings & Honeymoons Specialist
My Favorites
Favorite Disney Park – Such a hard one but I have to say Magic Kingdom because that's where it all began for me in 1975!
Favorite Disney Ride – Haunted Mansion
Favorite Disney Snack – Popcorn!
Favorite Disney Character – Minnie Mouse (Tinker Bell is my 2nd favorite!)
Favorite Disney Restaurant – Be Our Guest
Favorite Adult Vacation Spot – St. Lucia
Favorite Family Vacation Spot – Disney (duh!), St. Augustine FL, and Hilton Head SC