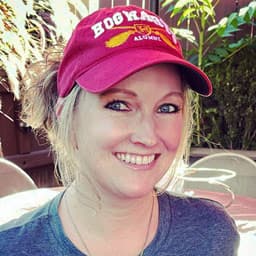 Specialty Destinations
Disney, Universal, Mexico, Germany, Switzerland and Italy
---
About Me
Hello, my name is Amy, a self-proclaimed late Disney bloomer, and this is a good thing for you, allow me to explain.
I was born and raised in Ft. Worth, Texas for over thirty years, (Hello… my maiden's name is Austin!). Fifteen years ago, my husband, five children and I relocated to Loudoun County, Virginia. I have been a stay-at-home wife and mother for over twenty-seven years and have loved every minute of it. I homeschooled all five of my children from grade school through graduation. Over the years, I reviewed books for the top six publishing companies in NYC, worked as a private chef, provided party/event planning services, and I currently create art out of books called Wicked Bookcraft.
While my children were growing up, we became Harry Potter obsessed. The entire family would rush to the bookstores and theaters when the newest Harry Potter books or movies were released. Naturally, we began visiting Universal Studios Orlando around fifteen years ago and have been many times since then.
When my husband and I needed a vacation without the kids, Mexico became our go-to and we've returned nearly every year for 29 years. We've stayed at some of the best… and worst all-inclusive resorts and many lessons were learned.
The years we skipped Mexico; Europe became our favorite destination for special occasions.
Things have changed quite a bit now that our children are grown, and at the top of that list is that we've discovered Walt Disney World. Zip-a-dee-doo-dah, zip-a-dee-ay. Yes, we've discovered Disney without children, and it's wonderful, eye opening and I feel like a kid again!
I started planning trips for my In-laws and friends (without kids), to hop on the Disney train with me. I've realized that a misconception exists that you need children to have a reason to go to Disney, and I want to fix that! So, for the last few years, my husband and I have been to Disney five times. We have the bug now, and it's only growing. Sure, we have plans to visit Europe and Mexico again, but only after I get my pixie dust fix each year! I have built vacation after magical vacation for myself, my friends and family, now I would like to share my expertise with you. I can't wait to plan the trip of your dreams.
Certifications
College of Disney Knowledge
Universal Orlando Resort Specialist
Antigua & Barbuda Specialist
My Favorites
Favorite Disney Restaurant – The Liberty Tree Tavern, because I love feasting on Thanksgiving fare without lifting a finger!
Favorite Universal Studios Restaurant – The Leaky Cauldron in Diagon Alley
Favorite Disney Park – Epcot! Walking through each country eating and drinking what each represents, is such a wonderful experience and never gets old.
Favorite Universal Studios Park – Universal Studios Diagon Alley
Favorite Disney Attraction – Hands down… Avatar Flight of Passage
Favorite Universal Studios Attraction – Hagrid's Magical Creatures Motorbike Adventure
Favorite Disney Snack – Corn Dog Nuggets!
Favorite Universal Studios Snack – Butterbeer Ice Cream or Green Eggs and Ham Tots!
Favorite Disney Character – Steamboat Willie … I like the classics.
Favorite Universal Studios Character – Snape
Favorite Adult Vacation Spot – Rome, Italy
Favorite Family Vacation Spot – The Wizarding World of Harry Potter at Universal Orlando
Favorite Adventure Experience – Oktoberfest in Stuttgart, Germany
Most Breathtaking Experience – Riding a Gondola up Gimmelwald mountain in Switzerland
Favorite Tropical Beach – Puerto Vallarta, Mexico