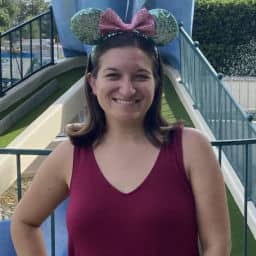 Specialty Destinations
Disney, Universal, Washington D.C., Smoky Mountains TN, Miami FL
---
About Me
Hi, my name is Diana! I am a Florida native although I have lived in several places such as New York, Virginia and Dominican Republic. I currently live in Orlando, Fl. with my husband and our 4-year-old prince and 6-year-old princess after moving back from Virginia a few years back to be closer to family.
My love for Disney started when I was about 13 years old when my Aunt invited my sister and I to join her and her family on their annual Disney trip. I hadn't traveled much prior to this trip so it opened my eyes to not only the Magical World of Disney but the adventures and memories you build when traveling with family and friends! Years later I decided to move to Orlando to study hospitality management at UCF where my customer service and planning career started back in 2003. I completed a 9-month college internship program at one of the Disney Resorts while working on my Hospitality Management Degree. I later moved on to work for Marriott Hotels for 9 years working in management between the Front Office, Housekeeping and eventually focusing on Event Planning.
Once I met my husband, we started to travel together visiting different states across the United States whenever we could and then started traveling to the Caribbean and throughout various countries in Europe. I love to learn about and discover new cultures, sights, cuisines and to make wonderful memories together. Planning a trip whether for myself, a family member, friend or a client is part of the fun and experience for me. My family and I have Disney annual passes so we go several times a month since we are just a short drive away; which allows me to keep up with any changes and improvements made throughout the various parks and resorts.
I decided to become a travel planner because I wanted to use my hospitality planning experience and my love for Disney and Traveling to help others build great memories of their own. As a certified Disney & Universal Vacation Planner I can assure you I will put as much thought and details into your trip as I would for my own travels with my family. My job is to relieve the stress of the planning process by utilizing my knowledge to help my clients make the right decisions to make their vacation their perfect trip. Making everlasting magical memories is what it is all about!
Certifications
College of Disney Knowledge
Universal Orlando Resort Specialist
Antigua & Barbuda Specialist
Marriott Hotel Sales Specialist
SeaWorld Parks & Entertainment Travel Specialist
AMResorts Master Agent
Hilton All-Inclusive Resorts Certified Specialist
My Favorites
Favorite Disney Restaurant – Satu'li Canteen for quick service. The Crystal Palace for sit down because of all of the memories we have made here! We take both of our kids every year to The Crystal Palace for their birthday lunch and it has become our tradition.
Favorite Disney Park – Magic Kingdom
Favorite Disney Attraction – Toy Story Mania because it is my kids' favorite and I love seeing how excited they are every time we go on it!
Favorite Disney Snack – Gaston's Tavern cinnamon roll
Favorite Disney Character – Princess Belle
Favorite Adult Vacation Spot – Cancun/Riviera Maya, Mexico … we spent our honeymoon here and loved everything about it, from the beaches to the excursions.
Favorite Family Vacation Spot – Marco Island