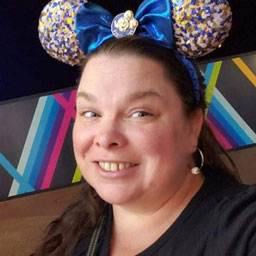 Specialty Destinations
Disney, Universal
---
About Me
Hi, I'm Leslieann! My happy trio (The Mom, The Dad, and The Kid) lives in New York.
The first time I experienced Walt Disney World was when I was 22 years old. I was on an adults-only trip with my husband and a few family members, and it was immediately clear to me that Disney was not just for kids, but also for the kid in all of us! The first park we visited was MGM (now Hollywood Studios). Our group happened to walk into an open-door front and there stood Mickey Mouse himself! He was all alone just waiting for someone to stop in and say hi! I can tell you, I have never hugged anyone so hard in my life! Walt Disney World is our home away from home. A place where we have watched our family grow and build amazing memories together. It is the one place in the world where we feel like our family time belongs to only us; where the day is ours and adventure awaits! That is why my family calls Walt Disney World Our Happy Place.
In our happy place, my favorite go to spot is a hidden gem. I really love the Nomad Lounge in Disney's Animal Kingdom. While not technically a restaurant, this lounge still offers yummy small plates and beverage options. It is a quiet and relaxing retreat in the heart of Disney's Animal Kingdom theme park! Bonus? You can order appetizers off the menu at Tiffins – a signature dining experience! While the food is delicious, most people visit Walt Disney World for all of the amazing attractions …. my favorite being Happily Ever After! There is nothing more magical than the spectacular that is the evening fireworks show at Magic Kingdom. It is so easy to get lost in the moment watching Happily Ever After, with larger-than-life projection, stunning pyrotechnics, and an emotionally moving soundtrack which not only takes us through the journey of our favorite Disney character, but also reminds us to live our story; to reach out and find our own happily ever after!
I believe family time is the most important time anyone can have. We live in a busy world where we often don't get the chance to really enjoy each other as a family. This is the reason I became a travel agent. Vacations are a pause from the hustle and bustle of everyday life. They provide a certain joy that is an honor to be a part of. I receive a great deal of satisfaction from helping others paint the back drop for their next adventure, knowing the memories they make will be forever cherished. When you book your vacation with me, you're getting a teammate in planning. I care deeply about helping you create magical vacation memories and finding the right vacation that works for you!
Certifications
College of Disney Knowledge
Universal Orlando Resort Specialist
Antigua & Barbuda Specialist
Royal Caribbean University, Bachelor of Adventure
Jamaica Travel Specialist
My Favorites
Favorite Disney Restaurant – Topolino's Terrace …. the menu at both breakfast and dinner is superb, and the ambiance is sophisticated but not stuffy. This restaurant provides the perfect back-drop for breakfast with Mickey & the gang in the morning, and a romantic atmosphere in the evening.