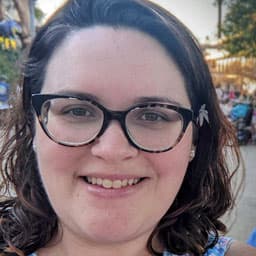 Specialty Destinations
Disney, the Bahamas, Tampa FL, Clearwater FL, Blue Ridge GA, Cruises
---
About Me
Welcome! My name is Ashlea Pichardo, and I'd love to introduce myself. I have been married to my husband since 2010. Yes, we are high school sweethearts! I asked him to the prom and the rest is history. We have two boys, Hudson & Elliot. Our rescue dog's name is Daisy, which happens to be my favorite flower as well as a sassy and sweet Disney character who fits the personality of our Daisy perfectly!
Overall, I became a travel advisor because I love helping others. My husband and I believe in the gifts of experience over physical items. Making memories hold the most value to us.
I joined Favorite Grampy Travels because of that passion for helping. I believe in the Disney difference of going above and beyond to make a guest trip magical. If I can take away the stress of planning, making reservations, remembering where everything is, while also helping you to relax, enjoy, make memories and bonus snag a promotional deal I've done my job!
I have psoriatic arthritis, and Auditory processing disorder. It is all well controlled but I love that Disney can accommodate many disabilities, even the invisible ones. I know the ins and outs of DAS, a wonderful accommodation Disney provides, as well as quiet spots throughout the park and care centers. This is part of that Disney difference that makes the trip a little more magical.
Magic to me is making memories, adventures, making connections, remembering surprises each trip and why you love traveling.
Let me help you make magic real. Fill out the information form so I can start creating magic for you!
I do more than just book your vacation! I hope we become friends while I help you create memories with your family & friends, or just by yourself!
Certifications
College of Disney Knowledge
Royal Caribbean University, Master of Adventure
Virgin Voyages Seacademy Gold Level Specialist
My Favorites
Favorite Disney Destination – Walt Disney World in Florida. This is my home turf. With living less than an hour away, I've grown up in these parks. No matter how many times I go there is always something new!
Favorite Disney Park – EPCOT… because I love traveling the world in one day, and also who doesn't love all of those festivals?!
Favorite Disney Restaurant – Ohana
Favorite Disney Ride – Enchanted Tiki Room… It was my Papa's favorite. He has since passed and so this ride holds a lot of good memories. This ride was also my youngest son's first attraction at Disney at only a few weeks old.
Favorite Disney Snack – Dole Whip!
Favorite Disney Character – Belle. She is brave, adventurous, loves to read, and most of all is kind to all.
Favorite Adult Vacation Spot – Adult-only beach at Castaway Cay.
Favorite Family Vacation – Disney Cruise Line
Favorite Relaxation Destination – Cabin in Blue Ridge Mountains in Georgia. We love turning off electronics for a few days, lighting the fireplace and spending quality time as a family hiking, making s'mores, and playing board games
Favorite Winter Destination – Florida! No snow or cold for this tropical girl!